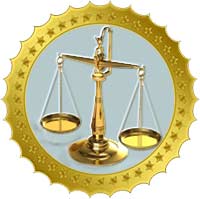 Seventh Street Tulsa Law Office's Tulsa attorney provides skilled representation in the legal practice areas for which Tulsa residents often seek individual legal counsel. Our firm's focus on core practice areas assures you that your case will be handled by a knowledgeable attorney with the experience to get the job done.
For your family law matters, criminal law matters or personal injury cases, our Tulsa attorneys offer attentive, concerned representation. Our association with one of Tulsa's preferred law firms allows her to bring depth of skill and resources required to achieve the best outcome in your legal matter.
When you're ready to bring a family dispute to a close, family court provides a means to get everyone back on the same page. The results of a family law proceeding often depend on who's legal counsel can best make a case for their client's interest.
Whether you are seeking a divorce, need to collect child support or modify an existing child support order, or have an urgen child custody matter that requires court intervention, our Tulsa family law attorney offers effective representation based on your preferences. An experienced Tulsa family attorney can tell you what the law allows, what the law requires and what you can do to achieve the best outcomes.
Modern law enforcement practice often results in innocent people facing serious criminal charges. Police and prosecutors sometimes cut corners and rush to judgement. And sometimes, people just make mistakes and must answer to a court for their actions. Whatever might bring you to face a criminal charge, the prosecution must still prove its case or you may walk free.
The skill your criminal defense attorney brings to the table can make a significant difference in the outcome of your case. Whether you are charged with a major felony, you are being rushed through a rubber-stamp misdemeanor case, or you are facing a municipal citation,  a knowledgeable Tulsa criminal defense attorney can help you find the best outcome. Don't wait until it's too late — contact an attorney before you talk to police, before you accept a plea deal and before you enter a plea that can diminish your right to appeal.
A criminal conviction is seldom the end of a criminal matter. The Tulsa attorney can assist clients in the appeals process to undo wrongs done in lower court settings. After a conviction, options may be available that can clear your record and restore your standing in society include expungement and pardons. Contact the Tulsa criminal defense attorney for representation in DUI, drug crimes, petite larceny, misdemeanors, felonies or any pending criminal matter.
Accidents that result from someone else's careless, negligent behavior can be life changing events. Financial hardship complicates the physical impairment and emotional stress an injury  can cause. A Tulsa personal injury attorney can help you find a way to recover your loss after an auto accident, a slip and fall accident, a dog bite, a medical error and many of the other common causes of unexpected injuries that result from careless actions.
Other Practice Areas
Through our association with one of Tulsa's preferred law firms, we have access to Tulsa attorneys who can provide clients representation in other areas of law for which individual's often seek legal counsel. Do you need to adjust your estate plans after a divorce? Seventh Street Tulsa Law Firm can provide estate planning assistance. Do you need help with an immigration matter? Seventh Street Tulsa Law Firm can find you the help you need.
Are creditors ringing your phone day and night? A bankruptcy filing might put a stop to the calls and give you a fresh start toward financial recovery. If you live in the Tulsa area and need a lawyer, Seventh Street Tulsa law firm can help. If our office doesn't have experience in a particular area of law, we can help you find a lawyer that does.
For matters involving family law, criminal law, personal injury and other individual legal concerns, contact the Tulsa attorney at Seventh Street Tulsa Law Firm for a free, confidential consultation. Call today at (918) 932-2777. We've also provided a form on the right side of this page where you may send your question or inquiry and receive an e-mail reply.