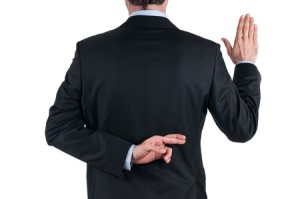 In essence, lying to the government in Oklahoma is any knowing claim or statement that is false and made for the purpose of defrauding another, or conspiring with another to do so.
Virtually all states and the U.S. federal government have statutes in place to protect against fraudulent claims made against governmental entities.
These cases arise both in the pursuit of payment from governmental programs in Tulsa, Oklahoma as well as the avoidance of payment rightfully owed to governmental programs.
False or fraudulent claims arise in a surprisingly broad array of scenarios, with governmental financial and medical assistance often comprising the bulk of these claims.
What is Lying to the Government in Oklahoma?
A false claim or lying to the government in Oklahoma can arise out of a misrepresentation of financial need on an assistance application.
For example, a person may state that he or she makes less income than they actually make in order to qualify for some type of governmental assistance. The misrepresentation amounts to a false claim.
A false claim can also arise when a party overbills or bills a governmental entity for work not actually completed. A contractor who bills for work not completed is guilty of lying to the government in Oklahoma.
Oklahoma False Claim Statutes
In Oklahoma, it is against the law for anyone or any entity to knowingly make or present any false, fictitious, or fraudulent claim for the payment of any public funds from the state of Oklahoma or any of its departments or entities.
Likewise, it is unlawful to knowingly make any materially false or fraudulent statement upon an employment application for employment with the state of Oklahoma. (Okla. Stat. tit. 21 § 358)
An intentional false claim for payment of funds is a felony crime punishable by a fine up to $10,000 and/or up to two years in prison. (Okla. Stat. tit. 21 § 359)
Making a false claim on an employment application with the state is a misdemeanor offense punishable by a fine of up to $1,000 and/or up to a year in jail.
Free Consultation: Tulsa Criminal Defense Attorney
The Tulsa lawyers at the Seventh Street Law Firm are proud to offer the very best in criminal defense representation at reasonable rates.
For a free consultation in matters requiring criminal defense in Tulsa, call Seventh Street Law Firm today at 918-932-2777.
If you prefer e-mail correspondence, please send your question or inquiry using the form at the right side of this page.